The following three cases, represent some of the recent challenges Christians and other religions have faced from the "culture of shame" resulting from politically correct agendas. They are from the files of First Liberty Institute, the largest organization in the United States dedicated exclusively to protecting religious freedom for all Americans.
"We believe that true religious liberty means recognizing the fundamental right of every individual—including all ages, races, genders, and faiths—to follow their conscience and to live according to their beliefs," their website states. "Because of that, our mission is simple: protect religious freedom for all."
"We believe religious liberty is our first and most foundational right. It is the bedrock of our country and the catalyst of all freedoms. If the government can take away our right to religious liberty, every one of our freedoms as laid out by America's founding fathers will be lost. Thus, we fight daily to protect religious freedom for all Americans, both today and for future generations."
Volunteer Chaplaincy and Legislative Prayer Come Under Attack
Wess Jones is a small business owner in Texas. He's also a bass fishing dad. Since his teenage daughter is a member of Flower Mound High School's Bass Fishing Club, Mr. Jones spends many weekends captaining his daughter's boat while she fishes in tournaments.
But Jones' time on the water isn't limited to the weekends – he spends most of his days on docks and marinas as the owner of 1st Choice Marine, a small boat repair business. As a devout Christian, Jones believes in honoring God through his business, which is reflected in his company's slogan, "It's Not About Us, It's All About Jesus."
Early in the 2016 school year, Flower Mound High School (FMHS) invited parents to sponsor the school's bass fishing club. Jones readily agreed, paying a sponsorship fee in exchange for his company's logo being featured on the club's website and jerseys for the next four years. View letter from FMHS to potential sponsors
On September 6, 2016, Mr. Jones provided the 1st Choice Marine logo to the school. However, the next day, a school official said that they could not use the business's logo because the company's slogan, "It's not about us, it's all about Jesus," could put the school "in real hot water." View email correspondence
In a letter giving sponsorship guidelines, the school said that students should only solicit businesses that are "school appropriate." Any logos that included references to "drugs, alcohol [or] tobacco" or any other logos that "could be construed as offensive" would be rejected. View guidelines from school on logo
Jones was stunned that the school would refuse to use the logo simply because it referenced Jesus. He reminded the school official that his company was not affiliated with the school, making the logo his private speech. However, the school officials declined to allow the logo as long as it contained the religious reference.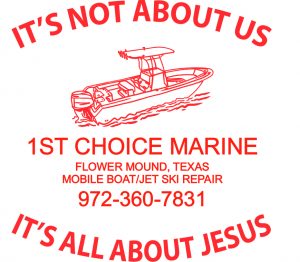 On October 19, 2016, First Liberty Institute sent a demand letter to Flower Mound High School, asking them to correct the situation.
"We are grateful to Lewisville ISD for taking swift action to correct this situation," Jeremy Dys, Senior Counsel for First Liberty Institute, says. "They are a great example to school districts everywhere of how to work with parents and children to ensure that First Amendment freedoms are protected in school."
"I am very pleased that the school district decided to do the right thing," Wess Jones, the owner of 1st Choice Marine, says.
Shortly after First Liberty sent the demand letter, Lewisville ISD issued this statement:  "FMHS Bass Club is a student-founded and student-led group separate from Flower Mound High School.  The organization is not affiliated with or sponsored by Lewisville ISD.  As such, the students in the club are free to make decisions regarding who may pay to sponsor their club and which logos are placed on their jerseys, website, and/or other areas under their control.  Flower Mound HS administration therefore cannot require prior approval for such sponsorships or logos.  The District will not further interfere in which logos or sponsorships the FMHS Bass Club chooses to accept."
Courts: Public schools may teach about the Bible
Mercer County, located in West Virginia, provides an elective, optional class about the Bible in nineteen of its public elementary, intermediate, and middle schools. On January 23, a lawsuit was filed against Mercer County Schools, claiming that the voluntary class on the Bible is unconstitutional.
First Liberty Institute represents Mercer County Schools as the case comes before the U.S. District Court for the Southern District of West Virginia (Bluefield Division), saying that Mercer County is committed to fully complying with the law.
"The school district is simply trying to follow the law," Jeremy Dys, Senior Counsel for First Liberty Institute, says.
Mercer County school administrators say they plan to offer an additional voluntary class on the Bible next school year to Mercer high school students, using the highly regarded curriculum The Bible and Its Influence.
Court decisions across the country hold that public schools may teach about the Bible. In School District of Abington Township v. Schempp (1963), the Supreme Court of the United States said, "The Bible is worthy of study for its literary and historic qualities." The Court affirmed that when a class on the Bible is presented objectively as part of a "secular program of education," it is constitutional under the First Amendment.
Over a decade later, in Wiley v. Franklin (1979), a federal court said schools can accommodate students and parents by offering voluntary classes that explore the cultural value of the Bible. The court noted that Bible writings are relevant to the study of "history, literature, poetry, music, art, government, social customs and practices, values, behavioral sciences," and many other values and interests encompassed within the concept of "Western civilization."
Indeed, the court explained, "To ignore the role of the Bible in the vast area of [these] secular subjects . . . is to ignore a keystone in the building of an arch, at least insofar as Western history, values and culture are concerned."
The court concluded, "That Bible study courses can be designed for use at all public school levels, from kindergarten to college graduate level, and can be designed to avoid violation of the First Amendment religious freedom strictures cannot be doubted."